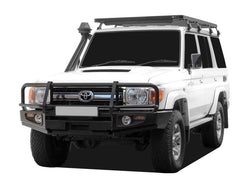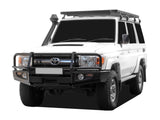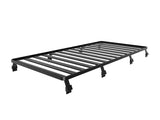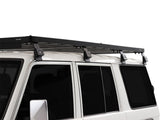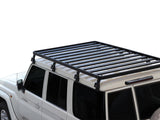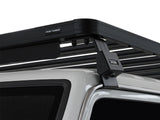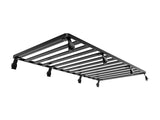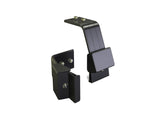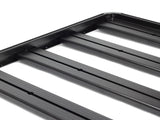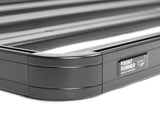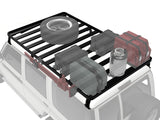 Toyota Land Cruiser 76 / Prado 78 Series Slimline II Roof Platform Kit - By Front Runner
SKU: KRTL015L
This 2368mm long full-size Slimline II Roof Platform Kit for the Toyota Land Cruiser 70 Series Wagon & Prado 78 Series Wagon, contains Slimline II Tray and Wind Deflector, as well as 8x Gutter Mount legs for mounting the platform to the vehicle.
It installs easily with no drilling required.
For a lower profile version of this rack, check out - Toyota Land Cruiser 76 / Prado 78 Slimline II Roof Platform Kit / Low Profile
The Front Runner Slimline II is engineered, built & proven in Africa for unmatched strength, lightness and functionality. Built for off-road adventure with on-road sophistication and comfort - the Slimline II is the ultimate rooftop storage system with over 50 additional camp/overland accessories & storage solutions available.
Manufactured from epoxy powder-coated T6 aluminium (platform) & 3CR12 Stainless Steel (mounting system) the Slimline II can withstand greater stresses than the best all-steel roof rack at 1/3rd less the weight. No plastic or steel to degrade over prolonged periods in tough conditions.
The modular design results in accessory & gear mounting options throughout the whole platform (cross slats, side profiles, top side, underneath, you name it!). Offering limitless possibilities to customise your perfect rooftop setup.
All Front Runner Rack Kits contain detailed installation instructions as well as all the components & hardware needed to mount the Slimline II Kit to your vehicle. 
All Front Runner Racks are backed by a Limited Lifetime Warranty*

Installation is available by our experienced roof rack experts at our Auckland workshop. 

For further information on installation along with detailed user guides, please see the fitment instructions in the INSTALL tab below.
For more information on Front Runner Outfitters & the Slimline II:
LEARN MORE
KRTL015L - TOYOTA LAND CRUISER 70 SLIMLINE II ROOF RACK KIT - BY FRONT RUNNER
We offer installation for all products at our Auckland based West Supply Workshop! Simply choose installation during checkout.
If you're gonna give it a crack yourself, here's all the info you need:
View the Slimline II assembly guide right here:
Slimline II Assembly Guide
View the vehicle specific installation guide right here:
Installation Instructions for KRTL015L
KRTL015L - Toyota Land Cruiser 70 Slimline II Roof Rack Kit - by Front Runner
Consisting of:
4 x LASS104 - No 4 Leg 170mm (Pair) - by Front Runner
1 x RRSTG12 - Slimline II Tray - 1345mm(W) X 2368mm(L) - by Front Runner
Material used:
Black epoxy powder-coated T6 aluminium
3CR12 Stainless Steel
Approximate Installed Weight 36kg (80lbs)
The t-slots on the tops and bottoms of the rack tray slats and edge profiles accommodate standard 8mm bolts.
To determine the approximate height from your vehicle's roof to the top of your Slimline II Roof Rack, add the height of the Slimline II Tray (50mm/ 2") to the height of the Foot, Grab-on Foot or Strap-On Foot listed above.

If your Slimline II Roof Rack kit uses Legs, add the height of the Slimline II Tray (50mm/ 2") to the height of the Legs to determine the height of the rack from your vehicle's rain gutters.

If your Slimline II Roof Rack kit uses Foot Rails, add the height of the Slimline II Tray (50mm/ 2") to the height of the Foot Rails to determine the height of the rack from the crown (highest point) of the vehicles roof.

Shipping Dimensions:
Width 450mm (18")
Length 1615mm (64")
Height 140mm (6")
Shipping Weight:
Weight 42.3kg (93.1lbs)
FRONT RUNNER'S LIMITED LIFETIME WARRANTY
All Front Runner Racks are backed by their Limited Lifetime Warranty*
LEARN MORE